What is this site?
The Reading is a creative writing advice column. Every first Sunday of the month, I answer a reader letter on a writing conundrum (like this). On Wednesdays, I reflect on a more nitty-gritty craft and industry details and host a discussion (like this) for paid subscribers. The Reading has been featured variously in WIRED, Poets & Writers, Creative Capital, and Literary Hub, if you want to learn more.
Who is writing all this stuff?
Me, Yanyi! A more official bio after the jump.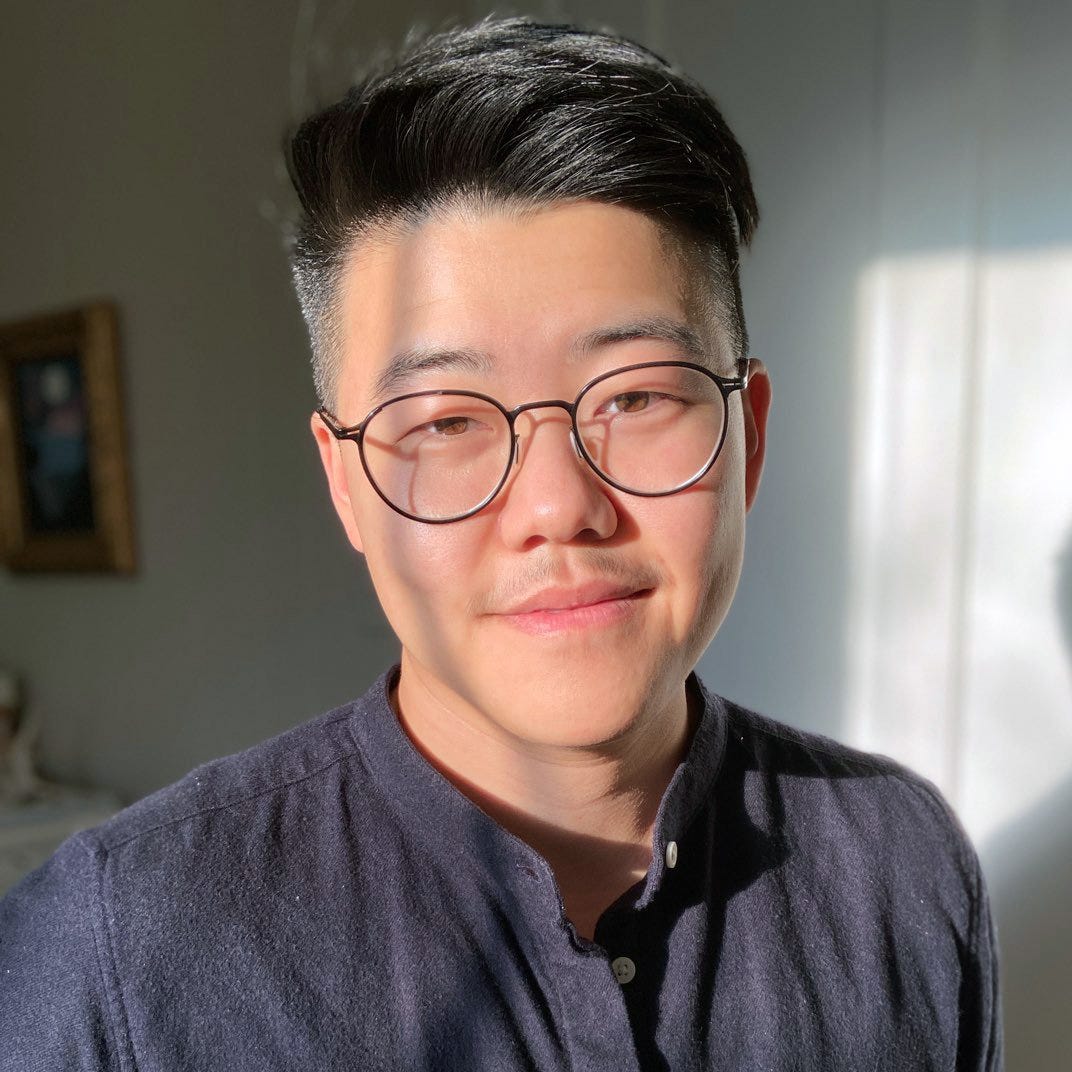 About the author: Yanyi is a poet and critic. He is the author of Dream of the Divided Field (One World Random House, forthcoming 2022) and The Year of Blue Water (Yale University Press 2019), winner of the 2018 Yale Series of Younger Poets Prize, finalist for the 2020 Lambda Literary Award in Transgender Poetry, and named one of 2019's Best Poetry Books by New York Public Library. His work has been featured in NPR's All Things Considered, Tin House, Granta, and A Public Space, and he is the recipient of fellowships from Asian American Writers' Workshop and Poets House. He has taught creative writing at New York University and Dartmouth College. Currently, he is poetry editor at Foundry. Find out more at yanyiii.com.
Why should I pay for The Reading?
Free email signups to The Reading receive the following:
My monthly Sunday advice column, The Reading
Not bad! But if you want more than that, a paid subscription gets you a lot more access to writing resources and a writing community. Here is a list of all the benefits:
My monthly Sunday advice column, The Reading
A letter postscript, usually additional commentary or an exercise pertaining to the monthly letter
The Writing, a weekly Wednesday discussion series where I answer your practical writing and industry questions
Inclusion in our online community chat on Discord
Five Questions interviews with other subscribers
Early-bird access to my mentorship and course offerings
Discounts to my independent courses
Here's a link to an index of posts from 2020 and the general newsletter archive, if you want to go back in time.
I want to send you a letter for The Reading advice column. Where do I go?
Submit a question to the advice column here.
I'm a paid subscriber who wants to send you a question for The Writing. How do I do that?
You can send me a question by directly replying to one of my Wednesday Writing emails that you should be receiving as a subscriber.
How can I get in touch with you?
For other inquiries, check out my main site.